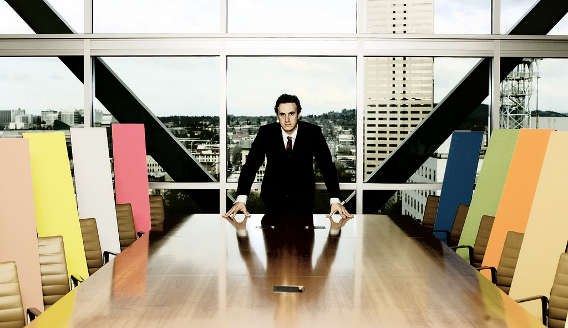 There are way too many bad meetings.
It's time for someone to solve this problem at your workplace. I vote for you. Here's what you need to do.
Step one
Get the powers that be to acknowledge the problems:
Meetings that don't seem to have a point.
Meetings that go longer than they should.
Meetings that don't produce action.
Meetings that start late.
Meetings filled with bickering and sniping.
Big shots attend a lot of meetings. They've experienced all of these and more. This won't be a hard case to make.
Step two
Propose that the company produce, implement, promote, and enforce a universal set of rules for meeting leaders.
To make your job even easier, here's a draft list. Tune it as you see fit.
Meeting rules
If there isn't a good reason to meet, there will not be a meeting.
If there isn't a good reason for you to attend a meeting, you will decline the invitation.
Every meeting will set goals to achieve one or more measurable objectives.
Every meeting will have a reasonable plan for achieving the objectives.
Every meeting will have one person in charge of leading the discussion.
All decisions and action items will be recorded by one person who is in charge of taking notes.
Meetings will not be scheduled to last any longer than a tightly developed plan determines they need to last.
Meetings will start on time.
Meetings will not run past the scheduled end time.
If the meeting agenda is completed before the scheduled end time, the meeting will adjourn.
Somebody will pay attention to the clock.
The quality of every meeting will be evaluated at the end, and improvement suggestions will be used at future meetings.
Participant List
Maybe your meeting participants need a little guidance as well. Grab this free list for them.
Make it happen
These rules can make a world of difference. Your job now is simply to get people to adopt the list.
Production, promotion, and enforcement are relatively straight-forward tasks. I have no doubt you or someone within your company can handle them.
You may run into some problems with implementation. Some of these rules require skilled leadership. If you and your colleagues want to build those skills, send me a note. Together we can figure out an appropriate next step. That might be one-on-one coaching, or even classroom training for people interested in leading great meetings.
Now get to work and sell the list.
Image credit: Darius Monsef