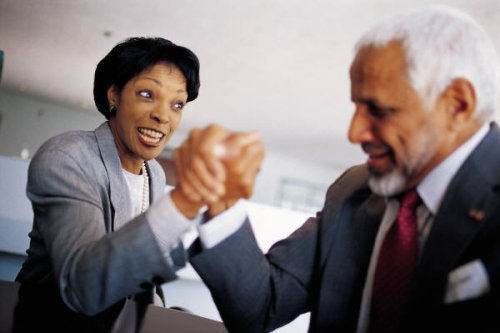 What can you do when two people just can't agree? Aaahhh, the joys of organizational life. It is difficult. All those competing interests mixed up with too few resources makes for some challenging days.
As usual, there is not a simple or easy solution to this problem. If you will imagine one of those people to be you, then I can offer you these ideas for moving things in the right direction.
Listen to each other. Before the fight starts to escalate, it helps to simply listen. What exactly does the other person need? Why is it important to him? How will he use what you provide? What does he believe to be the consequences of not getting what he has requested. Ask that he hear your story as well. This is not the time to rebut or convince; rather it is all about understanding.
Try to identify the issue. Are the goals mutually exclusive? Are there really not enough resources? Could there be a misunderstanding? What about past history that has created bad blood? Maybe it is a combination of all the above. You need to know what the problem is that you are trying solve.
Brainstorm potential solutions. If so far you only have two options (yours and his), it is time to begin developing alternatives. Work together to toss out all the ways you might solve the problem. Somewhere in the list, there is usually something that might work for both of you.