I finally got around to reading The 4-Hour Workweek. It's been out for six years, but I kept shrugging it off with a "Yeah, sure." Finally my curiosity overpowered my skepticism, and I reserved a Kindle library copy . It took a long time to arrive. A lot of people are still reading this book.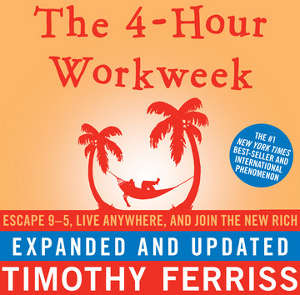 Much to my surprise, I liked it. The book offered advice in three main areas: Time management, business creation, and travel. While the business creation stories and advice tweaked my interest, they just didn't seem as easy to duplicate as Ferriss would lead you to believe. The travel stories were helpful, even though I'm a stay-at-home sort of guy. Most of the action for me came from the time management advice.
The booked is full of good ideas. Here are three big ones that stuck.
Redefine Retirement
For several years now, I've been thinking that retirement is overrated. I like what I do and can't figure out why I should work like crazy now, just so I can quit doing it as soon as possible and then do whatever I want even though I have no idea what that might be.
Yes, I know that physical and cognitive challenges will crop up at some point, but I see a whole lot of people in their 70's and even 80's that look pretty darn capable to me. So if I can and want, why not keep going?
Ferriss suggests taking the average 20 years most of us will spend retired and cash in some of those years early. How about those five years between the common retirement age of 65 and what today looks to be the perfectly capable age of 70. Could you imagine spreading out five years worth of "mini-retirements" across your 30's, 40's, and 50's?
If you aren't sure what you'd do with 30 – 60 day mini-retirements, think about shrinking your 40 – 50 hour workweek to 25 – 30 hours. You might make a little less and may have to work a little longer to fund those days when you no longer can work, but life might be a whole lot sweeter.
80/20 Rule
Let's suppose you wanted a shorter work week. How would you pull it off? This is where some of the book's time management strategies come into play. The first is applying the 80/20 rule.
This is an old favorite I've referenced many times in process improvement workshops. I use it to help people identify the small number of problems that are creating most of their headaches. What I hadn't thought about, until now, is that only a small portion of what we do in our days, both at work and at home, actually lead us closer to our goals. If 20% can create bad outcomes, it can also create good ones. Ferriss argues for only doing the 20% and not sweating the other stuff. Which makes me wonder what I should stop doing.
The 20% number gets most of the attention when discussing the concept. The book got me thinking about the 80%. Most of us are taught to keep getting better and striving for excellence. And in a few critical areas of our lives this strikes me as sound advice. But excellence takes a lot of time and energy.
Take golf for instance. It doesn't take that much time or attention to get good enough to enjoy the game with colleagues at the annual executive team retreat. But what if you wanted your name in the paper each week as the low scorer in your golf league? What if you thought you should make it on to the pro tour? In those cases your effort would need to increase exponentially. And no matter how hard you tried, the odds of you reaching your goal are not in your favor.
When 80% is good enough, let it be your goal. It will free up lots of time to pursue other interests.
We Don't Have to do it Ourselves
Another time saver in the book is to stop doing things that others can do for us, especially when they are tasks we don't want to do and others can do them more economically or better than we can do them ourselves. A common objection to this idea is that nobody can do it as well as I can. Maybe that's true, but I wouldn't bet on it. Also, why does it need to be done perfectly (see 80/20 discussion)? As a proud member of Free Agent Nation, this is a hard lesson to apply. If I have the time, I have always believed that I should do it.
That might be changing. Recently I dipped my toe in the outsourcing waters. I've got a half-acre yard which I've been cutting for 25 years with the same 20″ push mower. On hot days it's a lot of work. Midway through the summer I noticed a guy cutting a neighbor's yard. He looked happy and seemed to be doing a good job.
I decided to strike up a conversation. Here's what I learned. He was way less expensive than I would have guessed. He cuts the grass higher in the drier months to keep it green. He cuts it in a different direction each time because that's what you are supposed to do. My surprise came because I thought all lawn services just scalped the yard each week and didn't care. He asked if I wanted him to cut it right then. Yes I did, thank you. The yard looks great. I couldn't be happier.
Bonus Insights
In addition to the three biggies, I'm walking away with several others that I found valuable.
Unless I'm ready to act, I shouldn't provoke deliberation. This means no peaking at email, just to see if anything's important in there, unless I'm ready to deal with what I discover. Doing so grabs your attention and distracts you from living in and enjoying the moment.
Get rid of some stuff. There's a whole lot of excess in our lives. Stuff needs to be paid for, stored, maintained, protected, and insured. That consumes our time and money. Keep it simple. Strip life down to what's essential and you'll rediscover your time.
I don't control the stock market. Duh. Yes I knew that. The insight came from this question. Why do I want to invest my money in something I have zero control over? Ferriss has a point. Perhaps I should invest where I can have an influence.
Onward
There were plenty of other ideas in the book that resonated with me. The trick is to put one or two of them into action. Have you read the book? What did you learn? What did you dismiss? Share your best tips in the comments below. We can learn from each other.