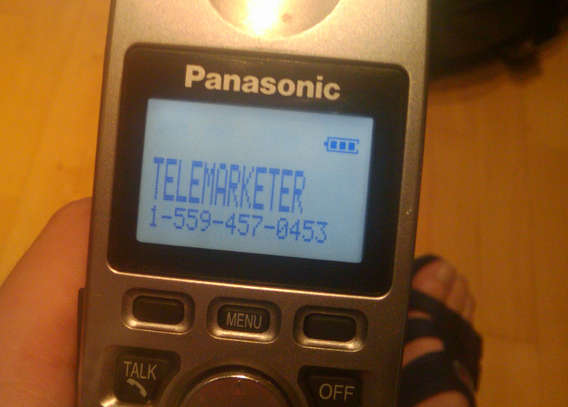 The first call comes around 11:40, every Monday through Friday. Usually one or two follow in the next two hours. The last from these folks usually rings in between 4:30 and 5:15. They appear to take weekends off. Thank goodness.
While the messages are slightly different . . .
they are all robo-calls,
they all want me to push one for a live operator,
when I push one the hold music is always the same,
the live operator always wants to know if I owe at least $2,500 in credit card debt,
and they all hang up or get snotty when I tell them to take me off the list.
I particularly like the message that warns me to "Act now because this is your final notice." I've received that final notice a few hundred times now.
I don't want or need what they are offering. Why won't they just leave me alone?
Email is no better
Here's a sample from what my spam filter caught yesterday.
Who are these people and do any of these emails actually work? They keep pushing their products and services at me. I wonder if they believe in what they offer and are genuinely trying to help. Based on their tactics, I'm assuming they don't and aren't.
Spammers & telemarketers have poisoned the well
I've become weary from all the people trying to sell me something. You probably have too.
The last thing I want to do is treat you like the telemarketers and spammers treat us.
This creates a big problem that I'm trying to resolve. I'd like to know what you think I should do. Here is how I describe the situation:
I have products and services for sale (my book, workshops, meeting facilitation, employee performance consulting).
My services have helped clients solve problems, meet goals, and capture opportunities.
Now or in the future you could benefit from my services.
I can't help people who don't know me or what I offer.
You are busy and aren't going to look for help until the moment you need it.
Your email box is already overflowing.
What else should be on this list?
What's the answer?
Internet marketing gurus say it's all about the list. I provide something of value, and you give me your email and permission to send you ideas, news, and offers. If that's the answer for you, then you'll see the sign-up box at the end of this post. Add your name to the list.
Others say it's all about social media. If you're reading this because you noticed it on LinkedIn, they are right. I post a lot of updates on LinkedIn. My guess is that very few of my connections see them.
I could reach out via phone every now and then to say hello and see what's happening in your life and what problems you are currently trying to solve. When I first started my business, I did this a lot more. After years of downsizing and the relentless push to do more with less, I began to sense that people didn't have time for the calls.
If you just want to be left alone, I want to honor that request. If you want to stay connected so that I can help when the time is right, I want to do that in the way that works best for you. Send me a note, give me a call (612-516-3313), or leave a comment below. Tell me how you prefer to stay in touch.
And one small favor
Because you're reading this, you already know of me and a bit about what I do. The real challenge is how to reach all those people who don't know I exist. With this problem, the solution is clear.
When you notice colleagues struggling with tough meetings, rocky relationships, morale issues, and other employee performance problems; you could direct them my way. The referrals are tremendously helpful, and I promise to treat your referral in a manner that reflects well on you.
Let's stay in touch.
Image credit: Jon Philips via Flickr (cc)