When I was a kid, we used to play in a friend's backyard.
On a fairly regular basis, one of our balls would fly over a neighbor's fence and land in his vegetable garden.
We knew that if he caught us going into his garden to retrieve the ball, we would get yelled at.
When we were really young, that neighbor man scared us. As we got a bit older, less so. At that point, some of the balls landed in that garden on purpose. I can vaguely remember a day when we hit crab apples with one of those big, red, plastic, kid bats toward his garden. On that day, we deserved a good screaming.
40 years later…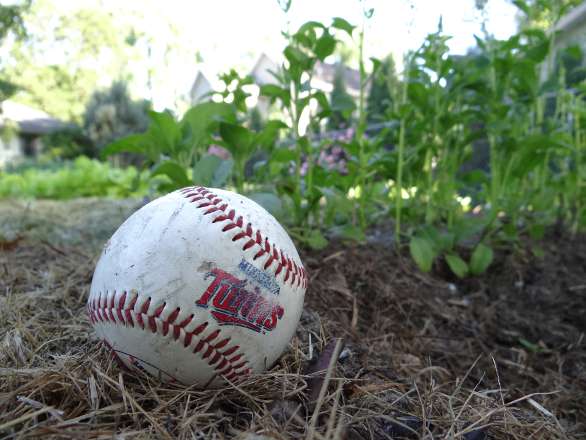 What goes around comes around. Last evening I said to Marie, "I think I see a baseball in our garden." This morning it became her latest art project.
It's still there. It's waiting for me to toss it back for a new game of catch.
Seeing that ball helped me remember a cranky old man and children behaving badly. It got me wondering about the choices we make and how those choices influence others. It cautioned me to not to become "Old Man LaForce" to the neighbor children.
Our days are filled with choices. At each decision point, the trick is to recognize that there are alternatives, and then pick the right one.
It's time to go toss that ball back over the hedge.
Image credit: Marie LaForce