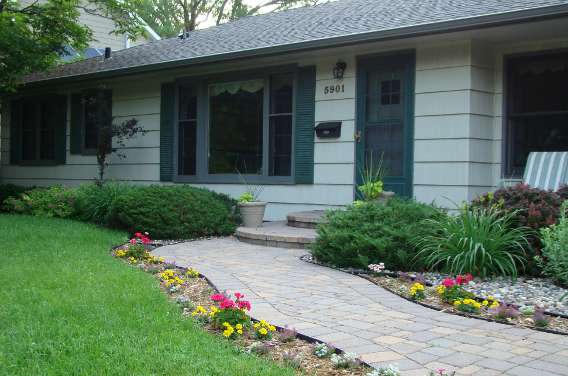 "You need to buy a white rambler in Edina," our realtor advised. We were young and in search of our first home. She continued, "It's the classic house that will never lose its value."
She made a strong case, but we still had our doubts. Newer homes in nearby Eden Prairie and Minnetonka drew our attention. After one too many questions about neighboring communities, she decided to prove her point. She drove us to Eden Prairie and showed us a couple examples of what we could buy. In each case she pointed out flimsy construction and other defects. She convinced us that an old Edina rambler was a better value than those other choices.
With the issue settled, she searched for a house in Edina. Ten days later she called me at work and said the perfect home had just come on the market. I told her we'd take a look on the weekend. She warned, "You need to see it today, or it will be gone."
I called my wife, and we arranged to meet right after work. I followed the realtor's directions into the unfamiliar neighborhood. We drove down the street, checking each house number, until we arrived at the address. There wasn't yet a sale sign in the yard. But, as we might have guessed, there stood a white rambler with black awnings.
We walked up the crumbling driveway. As the realtor worked the lockbox combination, I noticed the overgrown bushes. I also saw the little park across the street. Upon entering the house, we stepped onto beat-up, green shag carpet. It would need to go. By this point, I had already expressed some reservation. It was met with advice to, "Look beyond the surface."
The kitchen had bright yellow wallpaper. It was dated. I kind of liked it.
Next we came to a hallway that was nothing but doors, six in all. One led to the bathroom. Its walls were covered in fuzzy wallpaper. The sink was cracked. That too would need to be fixed.
The house needed work, but we liked the layout. Stepping out the back door was when we knew this house would become our home. The yard went on forever. It was framed by lilacs. There were trees everywhere. There was even a small tool shed, although it looked as if it was about to fall over. We could already see where the garden would be planted.
After a short, private consultation, my wife and I told the realtor to make an offer.
For twenty-five years this rambler has been our home. It quickly went from white to light gray with charcoal trim and forest green accents. The awnings made it too dark inside, so they came off within a week. I'll never forget that job because a wasp crawled up my sleeve and stung me three times.
In the first year a door-to-door salesman convinced us we needed a new driveway. He was right. A guy we hired to clean our ducts told us our furnace had a cracked heat exchanger and would need to be replaced. Ouch. Old ramblers may be well built, but they were also expensive.
We eventually did remodel the bathroom, but it took eight years. It's funny how ugly becomes tolerable and eventually normal as you get used to it. Over the years every room has been renovated, several more than once. The driveway and furnace have now been replaced twice.
The house has served us well. We've been happy here. These days, I try to remind myself of that. It's easy to forget. Edina's small ramblers are falling all around us. Most are being replaced with houses we couldn't afford. According to the property tax statement, our building not including the land, the one that would never lose its value, is now worth $19,200; less than what we paid for each of our last two cars.
What would our realtor think about Edina's housing trends? Would she be surprised that in less than twenty-five years, a small rambler has gone from a desirable starter home to one that nobody wants? She died, so I guess I'll never know. We often wondered what she thought when we painted our house. I'm certain she knew. A realtor would notice that sort of thing.
It's hard to know what to do. We could make the house better, but real estate experts tell us not to put more money into it. Ideally we would like to live in a small home with only the space we need and none that we don't. The big yard we once loved, now feels too big. A small lot located in a quiet, walkable neighborhood with mature trees would be better. It would be beautiful inside and out. We'd like to find this in Edina, but the options are quickly vanishing and aren't being replaced.
The previous owners raised three daughters in this one bathroom house. The husband died at home. Shortly after, his widow was ready to leave. After we bought it, we discovered a lot of duct tape patches and other home repairs that weren't meant to last. They were what people do who know they are leaving sooner rather than later. I used to wonder why they didn't do the job right. I've now gained more appreciation for how they felt.
So for now we ponder our options. The house won't be perfect. It never was. The one thing I'm certain about is that when we do leave, it will come to the end of its useful life, at least here in Edina. Perhaps it will be moved in the dark of night to wherever it is that old houses go. Until that day, it will continue to keep us dry and warm, and be the place we call home.