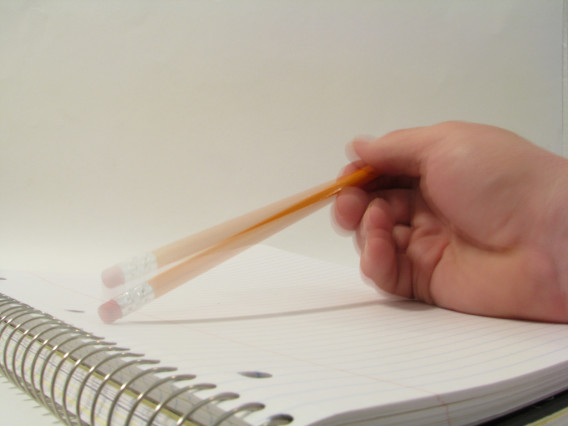 The quickest way I know to get people in a meeting to stop making eye contact with me is to ask for a volunteer note-taker. It is not a popular job. And yet meeting notes are critically important to the overall success of a meeting. Here's why. A great set of notes not only reminds people of what they committed to doing, it also suggests that others will remember those commitments because they have been written down.
One of the easiest ways I know to impress your fellow meeting attendees is to be quick with the notes. If you have been assigned the role of note-taker, this should be a piece of cake, especially if you take them using a laptop. Start with a template that already outlines the meeting based on the plan. Make sure you have all the attendees' email addresses. If you are a clean keyboarder, you very well may be able to hit the send key before the last participant has left the room. I'd suggest giving them one last read after you've gotten back to your desk to make sure they reflect your best work.
If you were playing the all-in-one meeting leader, as I often do, you will need a little more time, but not much. Here are a couple tricks I use to make this task painless and quick. First, whatever will eventually make the notes is written on a flip chart. This way I do not need to hand write notes twice. If I want a little more detail, I can use a pencil to record additional information right on the flip chart paper. For the most part, those notes are light enough that they are invisible to people in the room.
For many meetings, I plan ahead of time to remain in the room for 15 – 20 minutes following the meeting. In those cases, I whip out my laptop and capture what's on the paper while it's clearly displayed on the wall. Make sure the document is saved, and then you can chuck the paper. For long meetings that involve breaking into small groups, I sometimes find myself without much to do while the small groups are doing their work. This is a great time to capture the notes that have been produced up to that point.
At the very worst, I remove the paper from the walls, create a stack that is in the order in which each page was created, fold it nicely and take it with me. Later that day, if I'm not exhausted or busy, or sometime the next day, I make sure I find some time to create the notes from the paper that was on the wall.
One temptation, for those that have this option, is to hand off the pile of paper to someone else. If that person wasn't in the meeting, odds are that he won't be able to produce very good notes. Things won't make sense. If the person has to read my flip chart handwriting, it's unlikely he will be able to do so. It's far better for you to produce them yourself. You can fill in the gaps, using your memory of what happened, and add the necessary polish that make the notes useful to all.
Here's why a quick turnaround matters. People have short memories. Before they start sharing a less than accurate recounting of what happened in the meeting, I want to reinforce those memories with a record of what actually happened. Next, almost all meetings of any significance will be the starting point for some follow-up action. If you want people to do what they agreed to do, it helps to remind them of that as soon as you possibly can. Finally, business as usual means notes that show up a week after the event. But you are not a regular meeting leader. You are a superstar. This is a simple way of proving it.
Image credit: Rennett Stowe