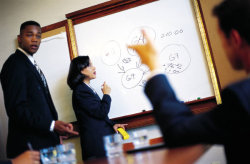 Imagine having a core group of employees who have mastered the necessary skills to run any meeting. These in-house gurus could lead your most critical meetings. They could also spread what they know to other managers and leaders, eventually increasing meeting productivity throughout your organization.
I've led thousands of meetings and have learned what it takes to run a fast-paced, productive session. Give me 8 – 12 employees for a couple days, and I'll get them ready to become facilitation pros.
Meeting facilitation skills
On completing my workshop, participants will:
Fully understand their role as a facilitator.
Demonstrate key facilitator competencies such as listening, summarizing, reframing, and questioning.
Plan an effective agenda.
Use a variety of facilitation tools and techniques to manage a group's process.
Close a meeting in a manner that promotes action and follow-up.
Document the outcomes.
Workshop topics
The facilitator's role
Facilitation competencies
Session planning
Problem-solving tools like multi-voting, brainstorming, structured discussion, and other useful techniques.
Facilitation tools such as ground rules, parking lots, and note-taking.
Balancing participation
Keeping the group focused
Dealing with negativity
Managing power imbalances
Managing the clock
Trouble-shooting
The first step is to contact me to discuss your goals and constraints. I'll then customize a workshop to perfectly match your requirements.