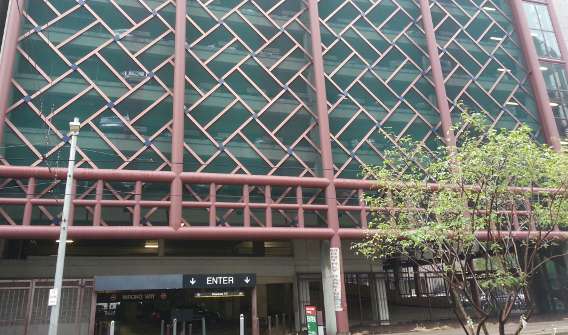 For years I've led customer service workshops. In one part the class talks about the reasons people complain. One of the biggies is when people don't get what they were promised. Of course the definition of a promise isn't always clear. Here's a story about a service provider who argued his offer was clear. I thought otherwise.
Recently I pulled into the 501 Self Park ramp located between the Government Center and City Hall in Minneapolis. It advertised an early bird special for $8. It was before 9:00 AM, so I found a spot and went to my meeting.
A couple hours later I returned and was astounded to learn that my bill was $26. No problem, I would just push the button and call the attendant who would help straighten things out. That's when I discovered the mistake was made by me for parking there.
You see, there was fine print. Early bird specials always require you to be in by a certain time. They might also include the maximum amount of time you can stay. Here's an example from a City-owned ramp I parked in today. Enter 6-9 a.m. 12 hour limit. While the price varies, the rules are pretty standard. At least that's what I believed.
The fine print on the 501 Self Park ramp was a little different. The attendant told me I had to enter by 9:00–expected–but it included a requirement that I leave AFTER 12:00. I did not see that but figured she was telling the truth.
I was in a hurry, so I paid the bill and went on my way, feeling about as angry as I had been in quite some time. I just couldn't believe leaving earlier raised my fee three times higher than I expected. I believe I've also seen this ramp advertise just $2 for 20 minutes. Good for them. So what might be a reasonable rate to pay if you punch your ticket at minute 21? Check out the rate sign.
Later I was still felt cheated and angry so I called the management company, Allied Parking. A nice woman explained that they do get complaints about it, but that was the owner's policy, and she couldn't change it. She suggested a strongly worded complaint letter.
Since I didn't believe that would work, I called the owners, InterPark. I talked with a guy who told me they were "Maximizing revenue from transient parkers." I suggested that another way of saying that was "Ripping off people who have to use the Court House, and probably won't be back anytime soon."
He said this was the first complaint he had received. I told him that the ramp has a nickname by people who work nearby, The Rip-off Ramp. Unfortunately, coming in from a different direction, I didn't even recognize I was in it. Others have written about their experience at this ramp.
His final argument was that I should have read the sign and taken advantage of the 15-minute grace period if I didn't agree to the terms. He was right on that point. I should have and most certainly will in the future.
Yes this company can charge whatever it wants. Yes, everything was marked, although easily missed. It would be interesting to stand by the payment kiosk from 10:00 to 12:00 and ask people who entered the ramp before 9:00 what they think they will be charged. I'm betting most will answer $8.00.
Here's my point. Providing good service shouldn't depend on your customers reading the fine print. Make your offer clear and easily understood. Make it fair. Work to win customers by helping them like you rather than beating them on a technicality.
InterPark got my money, once. They won't get it again. Besides a place to park, I got a great story to tell in customer service workshops and today a subject for my blog post. Maybe $26 wasn't so bad after all.